CLOSED
December 18 12pm-2pm
December 23, 2013-January 1, 2014

As we discussed at this week's story-time session, lots of different people celebrate this season in lots of different ways, but the common themes we discovered were lights/candles, food, and spending time w/family and friends! So however you are spending this Winter Solstice and the surrounding weeks, may you find much comfort and joy surrounded by loved ones!
Wishing you all much Light and Warmth!
__________________________________________________________________________________
Author and Illustrator to visit the
W.H. Walters Free Public Library
on
Saturday, December 7th
Local Photographer and Phillipsburg High School Senior Published their First Children's Book
Author William Suchowacki Local Photographer and Owner of WS Photography and Illustrator Megan Ericson Senior at Phillipsburg High School and Participant in the Lafayette Art Experience Program Published their First Children's Book. Which will include 10 Volumes of The Adventures of Maggie and Mikey with many new characters to come. This story takes you through the journey of a pair of homeless animals that were adopted and embark on their new life.
This event is free and open to the public.
To register or for more information, call 908-454-1445
or email alphapubliclibrary@verizon.net
Book sale and signing after discussion.
________________________________________________
HOLIDAY CRAFTING
Friday, December 20th
1:00 pm to 3:00 pm
Grades 3 thru 5
Sign up at the library as space is limited.
Come make a
Holiday Themed Pillow

to give as a gift or keep for yourself!

Then enjoy a wonderful holiday movie & snack!

Supplies provided
______________________
_____________________
Story Time on Thursday,
December 5, 12 & 19
@ 10am
Winter Story-time will begin January 13th.
_______________________
____________________
CLOSED January 1 & 20 2014
___________________________________________
Join a Book Club - It's Free and Fun!
Join our Book Club- It's free and fun!
Join a Book Club - It's Free and Fun!
Join a Book Club - It's Free and Fun!
Book Club
The book club will meet on


January 8th @ 5:30pm- 6:30pm
Come pick up a copy to read and join the discussion.
Shots rang out in Savannah's grandest mansion in the misty,early morning hours of May 2, 1981. Was it murder or self-defense? For nearly a decade, the shooting and its aftermath reverberated throughout this hauntingly beautiful city of moss-hung oaks and shaded squares. John Berendt's sharply observed, suspenseful, and witty narrative reads like a thoroughly engrossing novel, and yet it is a work of nonfiction. Berendt skillfully interweaves a hugely entertaining first-person account of life in this isolated remnant of the Old South with the unpredictable twists and turns of a landmark murder case.

It is a spellbinding story peopled by a gallery of remarkable characters: the well-bred society ladies of the Married Woman's Card Club; the turbulent young redneck gigolo; the hapless recluse who owns a bottle of poison so powerful it could kill every man, woman, and child in Savannah; the aging and profane Southern belle who is the "soul of pampered self-absorption"; the uproariously funny black drag queen; the acerbic and arrogant antiques dealer; the sweet-talking, piano-playing con artist; young blacks dancing the minuet at the black debutante ball; and Minerva, the voodoo priestess who works her magic in the graveyard at midnight. These and other Savannahians act as a Greek chorus, with Berendt revealing the alliances, hostilities, and intrigues that thrive in a town where everyone knows everyone else.



Midnight in the Garden of Good and Evil

is a sublime and seductive reading experience. Brilliantly conceived and masterfully written, this enormously engaging portrait of a most beguiling Southern city has become a modern classic.
Books are available at the Main Circulation Desk during the month before the meeting. For more information, contact Carla, 908-454-1445, alphapubliclibrary@verizon.net.
LOCATION


1001 East Blvd.
Alpha, NJ 08865
(Warren County)
alphapubliclibrary@verizon.net
Mon. & Weds. 9 am - 7 pm
Thurs. & Fri. 9 am - 5 pm
please call or check our website before you come.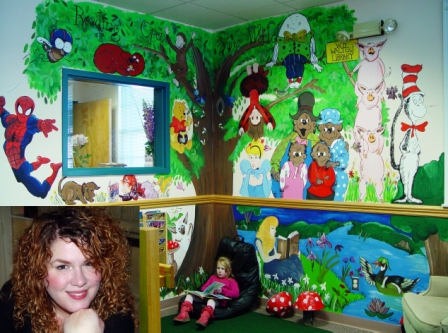 ArtByBethany@yahoo.com in our Children's Area